22/01/2018
Students from Texas Tech University visit the "Espejo Photovoltaic Plant"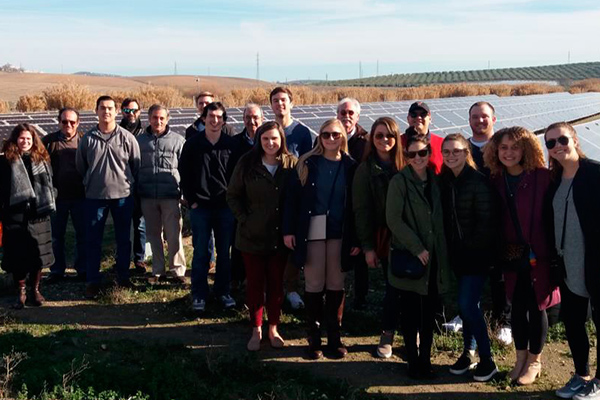 Students from Texas Tech University visited the "Espejo Photovoltaic Plant" on January 12, which is operated and maintained by FCC Industrial. Sixteen students of Industrial Engineering Degree, specialized in financial area of projects, visited the photovoltaic plant and showed their concerns about the management model of the plant, not only during its construction phase but also during its operation and maintenance phase.
FCC Industrial was represented by Guillermo Martinez Ochoa, Director of Engineering and Development and Jesus Laborda, industrial engineer who designed the visited plant, explained in detail to the students the project and its different variables.
FCC Industrial has designed, built and currently operates and maintains two photovoltaic plants: Sierresita and Cortijo Viejo, both in the province of Córdoba. Both photovoltaic plants have identical characteristics. They have a nominal power each of 10 MW and occupy a total area of 90 hectares, producing a total energy of 33 GWh / year. The more than 129,200 panels interconnected in more than 759 rows of panels, cover a total length of 102 kilometers.
Due to the efficiency activities, developed by FCC Industrial, the operation and maintenance of photovoltaic plants generates an average annual production of 33,200 MW / h (megawatts per hour), equivalent to supplying an approximate population of 24,000 citizens. A reduction in carbon dioxide emissions of 10,900 tons per year.
At an international level, FCC Industrial has designed and built the photovoltaic plants Pinna Giusepinno and Meda Giuseppe, on the island of Sardinia. Both photovoltaic plants jointly produce a peak power of 4.3 MWp. The photovoltaic panels have been built on greenhouse roofs, thus allowing the agricultural exploitation of the lands and the eco-efficient supply of nearby towns.