FCC signs a partnership agreement with Citroën España and BlueMobility to promote electric vehicles in Spain
10/05/2011
FCC signs a partnership agreement with Citroën España and BlueMobility to promote electric vehicles in Spain
The deal was signed at GENERA, the International Energy and Environment Fair. Over the next five years, FCC, Citroën España and BlueMobility will install charging stations for vehicles sold by Citroën to private individuals and companies.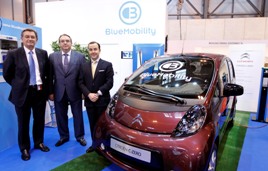 The agreement also includes the installation of charging points at Citroën specialised electric vehicle dealerships, and providing Citroën with battery charging equipment for its own fleet of electric and hybrid vehicles.
Citroën will act as distributor and prescriber of charging stations while BlueMobility will manufacture and maintain the equipment. FCC will undertake the necessary electrical installations for the equipment that BlueMobility will provide to Automóviles Citroën España.
Automóviles Citroën España
Citroën was Spain's leading supplier of passenger cars and commercial vehicles under 5 tonnes in 2010. The company has a long-standing policy of reducing fuel consumption and greenhouse gas emissions, and Citroën is a leading brand in environmental terms. For example, 42% of Citroën vehicles sold in Europe have CO2 emissions under 130g/km.
Electric propulsion is one of the options Citroën is developing with a view to achieving ecological mobility. Citroën's new C-Zero car makes it one of the first general automobile companies in Europe to have an electric car on the market.
BlueMobility
BlueMobility is a specialist in end-to-end products and services for electric vehicles. With a strong R&D focus, BlueMobility identifies innovation, technology and creativity as key values. It researches, develops, manufactures, markets, provides technical support and operates intelligent charging networks for electric vehicles and other solutions, as well as consulting in related fields. BlueMobility has experience in major charging infrastructure projects such as the city networks it has established with partner Gas Natural Soluciones, industrial installations and other electric mobility projects.
FCC
FCC, a leading European citizen services company, is strongly committed to sustainable development. It is also highly diversified in terms of both business and region, with presence in 54 countries. Its main business areas are infrastructure, environmental services, and energy.
Under its new FCC Industrial brand, created late in 2010 under its diversification strategy, FCC will provide the necessary infrastructure for implementing and operating charging points and integrating electrical installations.
In this way, the FCC Group maintains a firm commitment to eco-efficient mobility.
GENERA
GENERA, the International Energy and Environment Fair, held its fourth edition from 11 to 13 May 2010 at IFEMA in Madrid. It is an annual professional fair promoted by the Spanish government's Institute for Diversification and Saving of Energy (IDAE). Industries represented at the event include gas, oil, coal, geothermal energy, energy efficiency, solar thermal, thermoelectric and photovoltaic energy, biomass, waste-to-energy, biofuel and hydroelectric. This is BlueMobility's first time at GENERA; it has a booth in pavilion 10 of IFEMA, in the MOVELE section.