13/11/2017
FCC Industrial progresses in building the Samalayuca - Sasabe gas pipeline (Mexico)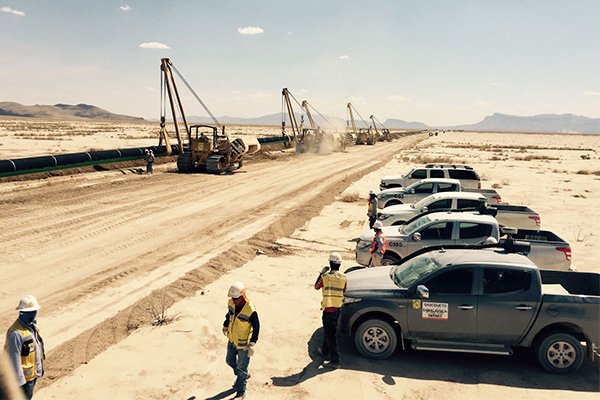 The CAFIG consortium, that includes FCC Industrial, is making progressing in the construction of the Samalayuca - Sasabe gas pipeline (Mexico). Currently various fronts are being undertaken in the states of Sonora and Chihuahua, thus ensuring high output and progress possible in the freed land areas.
The automatic welding process used in the project is one of the determining factors for obtaining positive rates of progress. In the state of Sonora, the CAFIG consortium has committed 105 km and in the state of Chihuahua, 126 km.
The consortium has built a total of 231 km, some 36% of the total of the gas pipeline.
The gas pipeline is 650 km long with a pipe diameter of 36 inches, crossing the states of Chihuahua and Sonora to supply the power stations in the north and north-east of Mexico.
It connects with the Sásabe – Guaymas and San Isidro – Samalayuca gas pipelines and has a capacity to carry 472 million cubic feet of gas daily.
FCC Industrial has more than 25 years' experience in building and commissioning oil and gas pipelines. It has installed more than 2,000 km of steel pipe for clients such as Enagás, Gas Natural Fenosa, CLH and Repsol.