26/09/2016
FCC Industrial makes progress on the fitting out of the Torre Sevilla hotel
FCC Industrial is making progress fitting out the Torre Sevilla with electrical, air-conditioning and fire extinguishing installations. The building, constructed by FCC Construcción, will mainly be used as a hotel.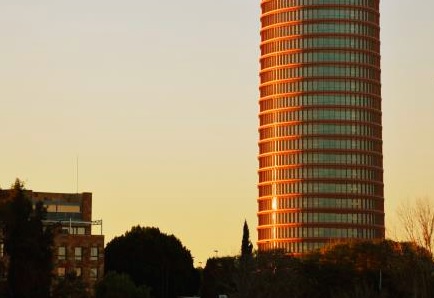 As regards the electrical tasks, conduit and wiring work is currently being carried out between the 31st and the 33rd floor. As for mechanical-related installations, work is being carried out on the rooms and communal areas of the new hotel, marking a 40% completion rate.
The formalised contract is worth more than 5 million Euros and is to be completed in under 9 months. This contract joins other infrastructures that have been entirely implemented by FCC Industrial, such as the remodelling of facilities at Palacio Cibeles, which is the new location for the City Council of Madrid; as well as the remodelling of the electromechanical installations of the Bank of Spain. Furthermore, work has also been undertaken on theatres, such as the Zorrilla in Valladolid and the Escorial in Madrid.
FCC Industrial building emblematic infrastructures
FCC Industrial has vast experience on building unique infrastructures. In addition to the inaugurated theatre and cultural centre, the company has built a municipal library that is currently in use and can hold up to 70,000 books.
Last year, FCC Industrial built the Murcia Data Processing Centre, which was the first project to be awarded the LEED Platinum certification, obtaining the highest scores for sustainability and energy efficiency in Spain and Latin America.
In 2012, FCC Industrial also completed the comprehensive and integrated implementation of Torre Windsor. Following the fire, FCC Industrial built the commercial division of the new building, as well as the other floors intended for office use. This project transformed the skyline of Madrid.