13/12/2021
FCC Industrial completes the construction of the Barcience photovoltaic plant
The plant has more than 145,000 photovoltaic modules to generate 50 MW of power.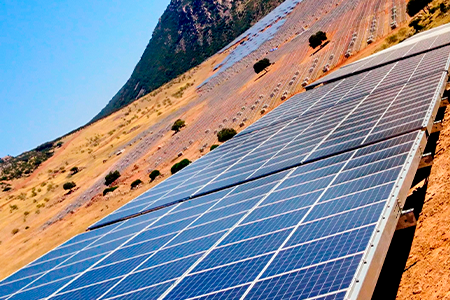 FCC Industrial, in consortium with Abengoa, has completed the construction of the Barcience photovoltaic plant (Toledo, Spain).
The Barcience plant, with 50 MW of power, will generate clean energy, thanks to its more than 145,700 fixed photovoltaic modules. This energy will also be poured into the grid avoiding the emission of more than 15,000 tons of CO2 into the atmosphere per year.
Specifically, the FCC Industrial-Abengoa consortium has been responsible for the engineering, construction, electromechanical assembly, commissioning and purchase of all equipment, except for the photovoltaic modules, structure and inverters.
FCC Industrial continues to add projects that expand the company's extensive experience in the development of engineering, construction and commissioning contracts for photovoltaic parks and solar thermal plants. FCC Industrial currently operates and maintains the Espejo (Córdoba) photovoltaic park and the Villena (Alicante) and Guzmán (Córdoba) thermosolar plants. Between the two plants they have an annual electricity generation capacity of more than 190 gigawatt hours per year, which means being able to supply 30,000 families and approximately a population of 70,000 inhabitants. All this enables a reduction in carbon dioxide emissions of 106,400 tons per year. This is equivalent to the amount of carbon dioxide that a forest covering an area of 15,000 hectares would absorb.