15/10/2019
FCC Industrial awarded in the "Awards to the Supplier of the Year 2019" of Iberdrola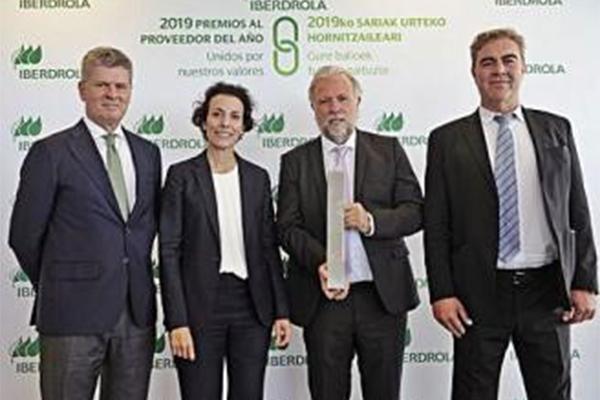 FCC Industrial, as an Iberdrola supplier, has been awarded in the "Awards to the Supplier of the Year 2019" of Iberdrola. With these awards, the company recognizes the key role of the value chain in achieving the company's strategic projects and objectives, highlighting the importance of creating an ecosystem of suppliers that work with the same values such as sustainable development, safety and security. quality, innovation, internationalization and job creation.
FCC Industrial has been awarded in the special category "attention in emergencies", for its contribution in the work carried out to effectively and maximum security manage the company's distribution network in extreme conditions, such as those suffered in the Valencian Community and Murcia during the flood that especially affected the Vega Baja region.
The delivery of these awards, held at the Iberdrola Tower in Bilbao, was chaired by Ángeles Santamaría, CEO of Iberdrola Spain, accompanied by Antonio Espinosa de los Monteros Chief Executive Officer of Iberdrola Distribución SAU as well as the Director of Purchasing and Insurance of Iberdrola, Assisi Channels. It was attended by more than 250 guests, among them, numerous representatives of the supplier companies with which Iberdrola collaborates in Spain.
FCC Industrial currently develops the framework contract for Iberdrola Distribution Networks, throughout Spain and for the period July 2017-June 2020, renewable for two years. By territorial areas, FCC Industrial works in the León sector, in the Zamora sector, being the only contract in the province. In the Benidorm sector, FCC Industrial remains the only contract and in the Elche sector, the electricity distribution market in the area is accessed. In the Toledo sector, FCC Industrial has become the only contract in the province. In the Cuenca sector, FCC Industrial accesses this new market. Finally, in Madrid, in the Pozuelo-Villalba sector, the company maintains the exclusive contracting of the area.
FCC Industrial is the second company nationwide in number of areas awarded by Iberdrola. In addition, in all the sectors mentioned, FCC Industrial has increased the services offered to Iberdrola, thus hiring the measure and reading as an additional service. This year, in addition, it has won the Ávila Sector and the Getafe-Leganés Sector, the latter in a shared way.
Recently, FCC Industrial, in joint venture with Abengoa, has been awarded the framework agreement for the construction of photovoltaic plants in Spain for Iberdrola.
According to this award, FCC Industrial will be able to tender the projects for the construction of photovoltaic parks that Iberdrola develops in Spain in the next two years. For this year, Iberdrola plans to build four photovoltaic plants of 50MW each.
The recognition of these awards is the result of the work developed by the team of professionals of FCC Industrial, who have more than 50 years of experience developing their activities for Iberdrola.