24/07/2023
FCC Industrial wins the construction contract for 263 MW of solar installations in Spain
The 5 projects will be located in the town of Guillena (Seville)
The contract has an investment of more than 200 million euros and an execution period of one year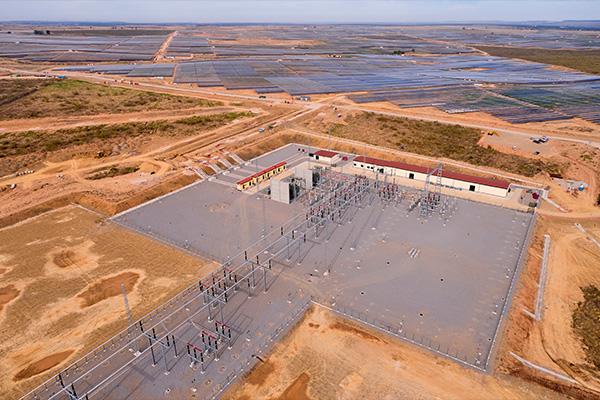 TotalEnergies has awarded FCC Industrial the construction of 263 MW of solar installations. The photovoltaic plants will be installed in the town of Guillena (Seville), occupying an approximate area of 400 hectares. This contract has an investment of more than 200 million euros and an execution period of one year.
"Our company has made a firm commitment to promoting renewable energy in Spain and the start of work on these projects in Guillena is a great step forward in achieving our objectives and those of the country. In this way, we continue to consolidate the leadership of Spain in Europe as a benchmark in the territory of sustainability and clean energy", declares Yago Mancebo Ferreiro, general director of TotalEnergies Renovables Ibérica.
The award will allow the construction, specifically, of 5 plants - Postigo, Buttress, Pilastra, La Noria and La Carrascosa - which will have a total of nearly 400,000 bifacial 665Wp photovoltaic modules. Once in operation, they will generate enough electricity to cover the estimated annual consumption of more than 150,000 homes, avoiding the emission of some 140,000 tons of CO2 into the atmosphere. The transformation process from direct current to alternating current will have 210 inverters and the evacuation of energy will be carried out by an overhead line of 9.5 kilometers to the point of interconnection in the promoter substation.
During the construction of the photovoltaic facilities, declared of strategic interest by the Junta de Andalucía, more than 800 direct and indirect jobs will be created in the next 12 months. In addition, TotalEnergies has signed a collaboration agreement with the Guillena City Council to promote employment and the socioeconomic development of the territory, thanks to which a professional training program aimed at incorporating local labor has already been carried out.
FCC Industrial designed and built in 2022 more than 700MW in different photovoltaic projects. It has designed, built, assembled, commissioned and operated different Solar Thermal Plants and Photovoltaic Parks, being a leader in the industrial construction sector in Spain.
TotalEnergies is a global multi-energy company that produces and supplies energy such as oil and biofuels, natural gas and green gases, renewables, and electricity. Its 105,000 employees work for energy that is always more affordable, cleaner and more reliable and accessible to the general public. With a presence in 130 countries, TotalEnergies defends sustainable development in all its dimensions within its projects and operations to contribute to the well-being of citizens.
TotalEnergies Spain is the fourth largest marketer of electricity, gas and services for families and SMEs in the country, with a portfolio of more than two million customers and continues to grow in the business segment, as well as in electric mobility solutions, solar self-consumption and energy efficiency projects. The multi-energy company has two motor product production plants in Madrid and the Basque Country. In the field of renewable energy, it has environmental permits to develop 3 GW of photovoltaic solar energy in Spain. It reinforces this commitment to the energy transition with a gas combined cycle plant in Castejón (Navarra) as backup energy for renewables.