FCC Industrial wins the design and construction contract for the new fuel supply system at the Lima International Airport (Peru)
05/05/2023
FCC Industrial wins the design and construction contract for the new fuel supply system at the Lima International Airport (Peru)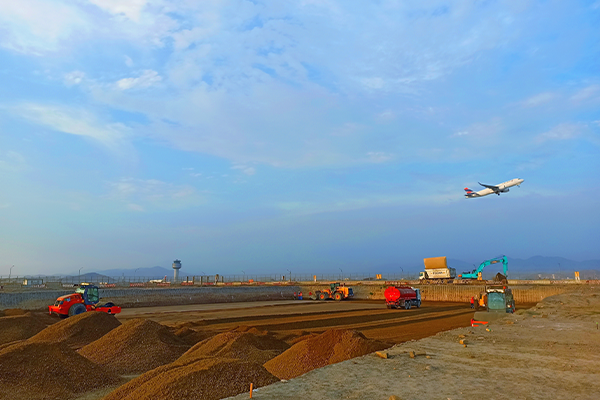 FCC Industrial has won the design and construction contract for the new fuel supply system at the Lima International Airport (Peru). The client, Exolum, has awarded the industrial company in the construction area of the FCC Group a vitally important contract to boost the capacity to supply fuel to planes at the airport in the Andean capital. The contract has an amount of 60 million dollars and an execution period of 24 months.
FCC Industrial will build a new fuel reception, storage and distribution plant to meet the expansion needs of the Airport in terms of having a greater reserve of Jet A-1, thus covering the flow and pressure requirements of the new hydrant system and develop the technology and automation necessary to interface with the Airport and other local entities, while maintaining industry standards and providing the expansion capabilities to serve the airport through 2041.
The new Plant will be equipped with all the necessary systems and equipment to receive aviation fuel, under normal circumstances, maintaining the capacity to receive supply via trucks.
Ten unloading stations for tanker trucks will be built at this new fuel plant; four storage tanks, a containment dam for the storage tank, a transfer pump between tanks, two loading platforms, eight pumps for the supply of fuel to the airport's hydrant system; a drinking water system; a wastewater treatment system; an operations and maintenance building, a fire pumping station, and a control and electrical building.
Lima International Airport is the main airport in Peru by volume of activity, since it concentrates the vast majority of international and national flights in the country. In 2019, it registered 23 million passengers and around 198,000 flights were made. Its aircraft fuel needs amounted to 1,278,328 cubic meters.
FCC Industrial extensive experience in airport industrial infrastructures
FCC Industrial has also executed industrial infrastructures for Exolum at Dublin International Airport that have made it possible to improve the capacity to supply fuel to aircraft, increasing refueling and reducing aircraft waiting times. It executed a fuel loading area for the airport tankers, as well as the installation of a network of underground pipes and refueling hydrants at the foot of the runway for aircraft and the construction of fire protection installations.
It built three double-walled storage tanks, each with a capacity of 5,000 cubic meters, to complete the existing ones, and increase the airport's fuel storage capacity and potential air traffic.