03/11/2015
FCC Industrial takes part in the XXXIII Hospital Engineering Congress
FCC Industrial took part in the XXXIII Hospital Engineering Congress which was held in the Granada Exhibition and Conference Centre between 14 and 16 October. The seminar was organised by the Spanish Association of Hospital Engineering and the Health Council of the Andalusian Regional Government.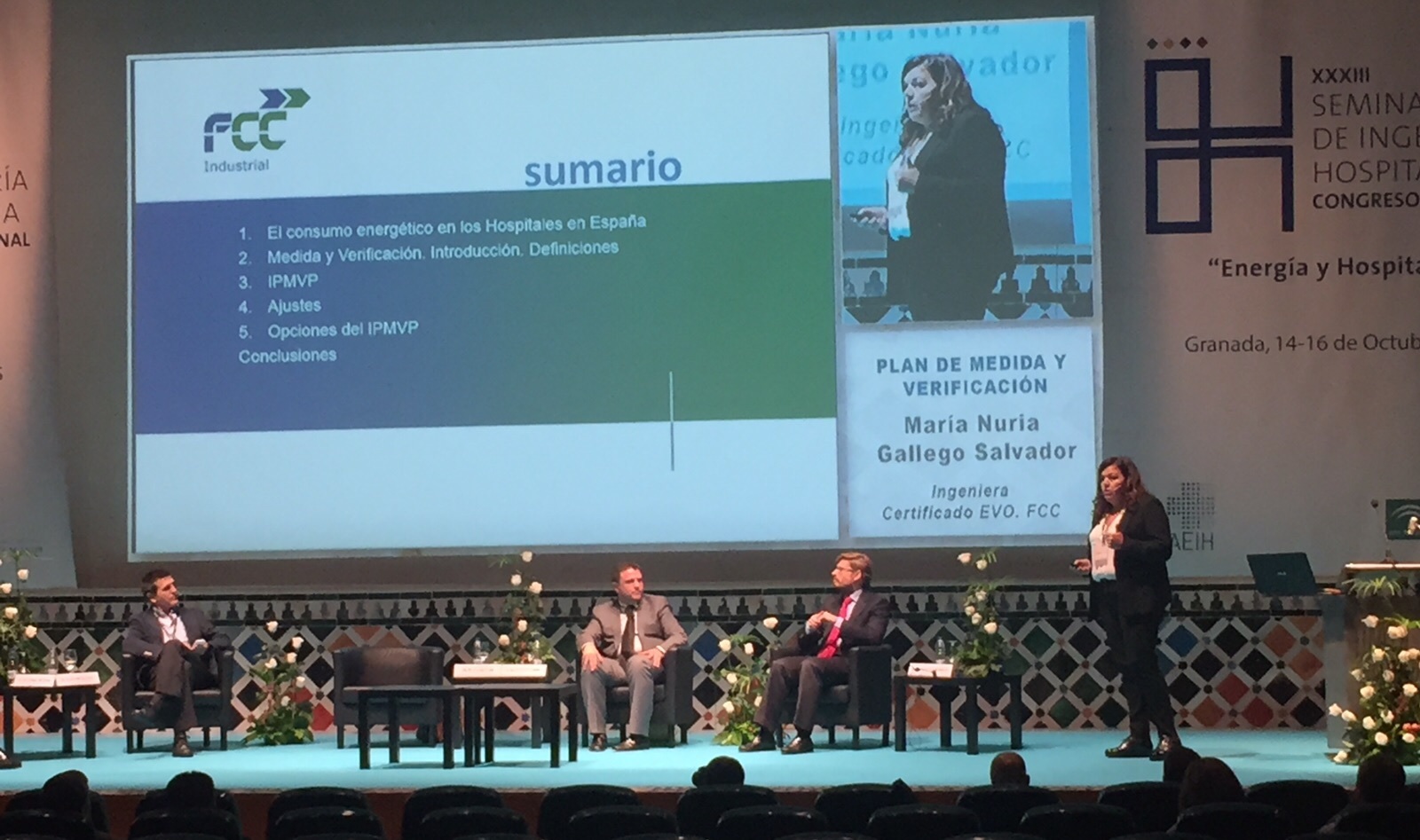 Over the course of three days the congress entitled "Energy and Hospitals" gathered more than 800 congressmen.
Within the context of this slogan, topics related to energy sustainability of healthcare activity were presented and discussed; other topics discussed included core concepts to optimise and match the demand for energy, the use of renewable and residual energy, efficiency and savings, the design of near-zero energy healthcare infrastructure, and lastly audits, management systems and administrative procurement of energy supplies linked to healthcare activity.
FCC Industrial took part in the round table talk on "Energy Savings", during which Nuria Gallego Salvador, CMVP ®, technical manager of FCC Industrial, gave a talk on the "Measurement and Verification of Energy Savings Plan". The presentation focused around the International Performance Measurement and Verification Protocol (IPMV), which was developed by the Efficiency Valuation Organization. The speech demonstrated that applying the IPMV directly benefits Public Authorities, the industry in general, energy trading and supply companies, energy services companies and financial institutions, offering an internationally recognised framework which serves as a guarantee between parties and facilitates talks.
FCC Industrial specialised in energy efficiency.
FCC Industrial has more than 20 years experience in operating, maintaining and managing energy efficiency. Its activities encompass a range of activity from preventive technical assistance to comprehensive solution of operation, use and optimisation of consumption of hospital buildings and industrial installations.
FCC industrial is committed to innovation, specialising in the design, engineering and development of advanced control systems, applied to the areas of traffic, transport, security and emergency, both in the military and civil sector.