FCC Industrial participates in the celebration of the 40th anniversary of the founding of the Tactical Leadership Program (TLP)
17/05/2018
FCC Industrial participates in the celebration of the 40th anniversary of the founding of the Tactical Leadership Program (TLP)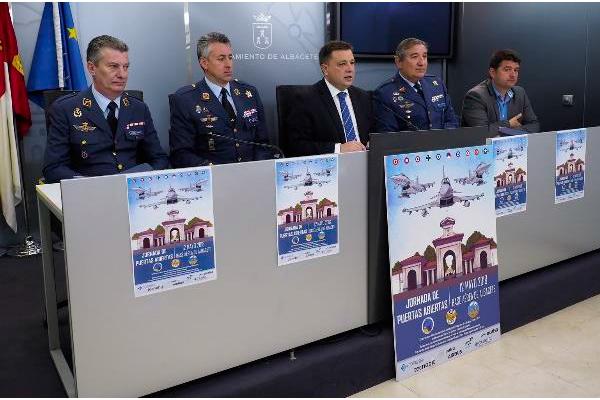 FCC Industrial participates in the celebration of the 40th anniversary of the founding of the Tactical Leadership Program of the Ministry of Defense. The Tactical Leadership Program is a center of excellence for the advanced training of combat pilots. It was established 40 years ago in Germany, later moving to Belgium and since 2009 located at the Albacete Air Base.
On May 12, the event featured static and flight exhibitions of Spanish and foreign aircraft.
It should be noted that Ala-14 has as assigned missions, in peacetime, surveillance actions and air police of the national sovereignty airspace, as well as air defense missions. It is prepared to contribute its capabilities to the Reaction Forces and to the operational plans of the multinational organizations in which Spain participates. The Wing 14 is equipped with the C-16 Eurofighter weapon system.
Also Maestranza Aerea at Albacete (MAESAL), founded in 1939, is a center dedicated to a triple mission: aircraft maintenance, material management and delegated engineering. The aircraft assigned to MAESAL are the fighter aircraft of the Air Force (F-18 and Eurofighter), the teaching reactors (F-5 and CASA C-101) and the firefighting aircraft.
After passing through MAESAL for its revision, repair or modification, the aircraft are ready to continue operating safely in the 10 Air Force Units equipped with this material.
FCC Industrial, through its Systems Division, carries out the following activities: monitoring and analysis of missions (MDS for the TLP); planning and briefing of air missions (MPB for the Eurofighter Typhoon, MPDS for the Air Force (F-18, F-5, ...), P3O for the P-3 Orion, SIPER for the C-130 Hercules); strategic and operational planning (TOPFAS for NATO); simulators (maintenance of simulators of the Air Force and helicopter simulator for the DGT).