FCC Industrial takes part in the Public Administration of Extremadura's "Energy Efficiency Workshops"
01/06/2016
FCC Industrial takes part in the Public Administration of Extremadura's "Energy Efficiency Workshops"
FCC Industrial participated in the "Energy Efficiency in the Public Administration of Extremadura Workshop" held at the University of Extremadura on 28 and 29 April last. The conference brought together companies such as Iberdrola, Watio, Enerluxe ... among others.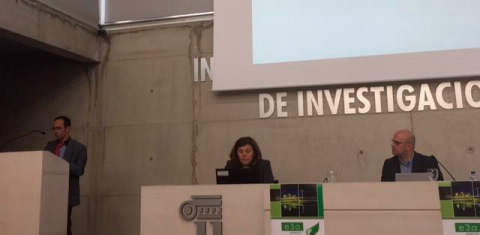 The conference provided a venue for presenting and discussing different aspects of the current status of energy efficiency, control software and certification, the situation of public lighting in Badajoz, energy management planning, smart cities, urban street lighting, and optimisation of lighting system performance.
FCC Industrial participated in the meeting as one of the so-called "successful case studies", presented by Nuria Gallego Salvador, CMVP®, Technical Director of electromechanical installations, maintenance and energy efficiency at FCC Industrial.
The conference was told about the "comprehensive energy management in urban utilities in the city of Madrid" contract and specifically about Lot 3, which FCC Industrial is undertaking together with other companies from the sector. To develop the case study, an explanation was given of the contract tender process: specifications, award criteria, key figures in the contract, financing requirements, and finally about the proposal submitted by INMAES and especially by FCC Industrial as a member of the successful joint venture bid.
Further detailed explanation was given about the stage of development after the award of contract, the need to conduct an initial audit in order to ratify the solutions to be implemented, the process of seeking and achieving funding, as well as the monitoring of the final solution and verification of results and commitments.
Finally, an outline of FCC Industrial's experience in such projects was given: management of outdoor lighting services in the municipality of Isla Mayor in Seville; integrated service management of outdoor lighting in the municipalities of Los Palacios y Villafranca; integrated service management of public lighting installations in the municipality of Totana.