FCC Industrial se adjudica un nuevo contrato con la Agencia de la OTAN de Comunicaciones e Información
03/07/2015
FCC Industrial is awarded a new contract with the NATO Communications and Information Agency
The NATO Communications and Information Agency (NCI Agency) has awarded FCC Industrial a new contract for the provision of TOPFAS IT development services worth close to €10 million, to be completed over the course of three years.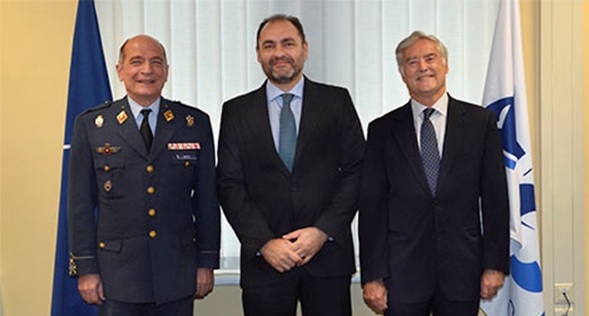 The contract signing ceremony was held in the NATO headquarters in Brussels and had participation from the managing director of FCC Industrial, Pablo Colio; the Agency Chief of Staff, Luis Andrey; and Ambassador of the Permanent Representation of Spain in NATO, Miguel Angel, to name but a few.
TOPFAS, which is an acronym for "Tool for Operational Planning Functional Area Service", is a set of software tools that enables the development of NATO operational plans, system analysis, as well as the evaluation of operations and reports.
In particular, TOPFAS improves the exchange and availability of information and data, guaranteeing quality of the exchanged information with the aim of enabling a collaborative and shared decision-making process between the different levels of NATO.
FCC Industrial is responsible for the engineering and development of the software tools, as well as the support, implementation and training in the different NATO locations where the system will be installed.
The NCI Agency has 30 offices in Europe, North America and South-East Asia, from which support is provided to operations in the field of information and communications systems development.
FCC Industrial systems provider
For FCC Industrial, a systems provider for more than 20 years, the development of TOPFAS represents a significant step forward, which has brought a high degree of international visibility and access to business opportunities in this area.
The systems division of FCC Industrial offers high technological value solutions applied to multiple sectors, and it is specialised in the engineering and implementation of ICT systems in areas of defence, traffic, security and infrastructure.