FCC Industrial and Matinsa complete the project to adapt the Loma de Bas and Sierra del Aguilón tunnels of the AP-7 Cartagena-Vera
22/09/2023
FCC Industrial and Matinsa complete the project to adapt the Loma de Bas and Sierra del Aguilón tunnels of the AP-7 Cartagena-Vera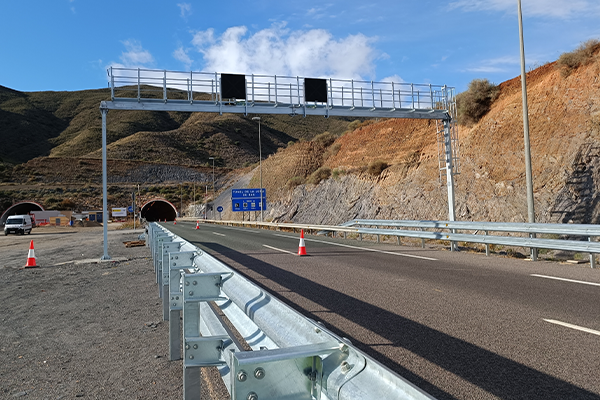 FCC Industrial and Matinsa have completed the project for SEITT, in which the Loma de Bas and Sierra del Aguilón tunnels of the AP-7 Cartagena-Vera were adapted to RD 635/2006.
The project has been developed to adapt the equipment and infrastructure of both tunnels of the AP-7 toll highway, Cartagena-Vera, to the safety requirements included in Royal Decree 635/2006, of May 26, approved as a result of the transposition of Directive 2004/54/EC of the European Parliament and of the Council, of April 29, 2004.
The Loma de Bas tunnel is unidirectional and has a length of 1,791 meters in tube 1 and 1,771 meters in tube 2, and an average daily traffic intensity (ADI) per lane of 805 vehicles per day. For its part, the Sierra de Aguilón tunnel, which is also unidirectional, has a length of 1,170 meters and an ADI per lane of 455 cars per day. Thus, in total, about three kilometers of tunnels will be intervened.
The project superficially adapts the pavement of both tunnels to achieve the required value of transverse friction coefficient. Also included are actions aimed at repainting the road, adapting the lanes to current technical regulations and adapting evacuation and emergency signage and lighting.
At this point, the planned intervention included the provision of a network of wet hydrants, the adaptation of the fixed signage at the mouths of the tunnel, the installation of LED graphic panels on porches outside, the provision of variable message panels at distances less than 500 meters, the adaptation to the standard of fixed interior signage, the enabling of the radio communications system for capturing FM broadcasts and rebroadcasting to users and the conditioning of the electrical supply system for the provision of double connections.
Additionally, the entire control installation will be updated through the provision of new cameras with IP connection protocol (Internet Protocol), an Automatic Incident Detection (DAI) system integrated in both tunnels, and a change will be carried out in the electronics of communication points in case of emergency (SOS posts) for its transition to IP connection technology.