Nuria Gallego, technical director of FCC Industrial, receives the "Best Energy Engineer" award granted by AEE Spain Chapter
02/07/2018
Nuria Gallego, technical director of FCC Industrial, receives the "Best Energy Engineer" award granted by AEE Spain Chapter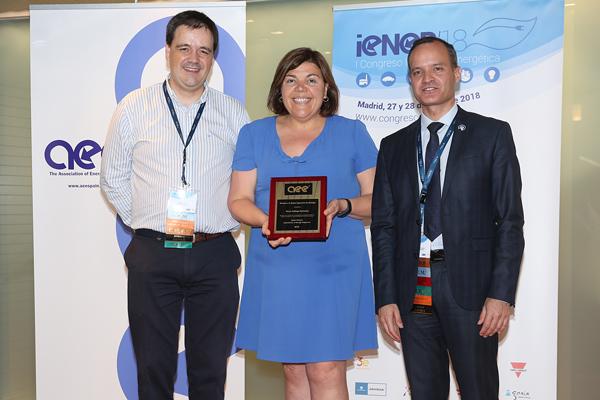 Nuria Gallego (FCC Industrial) has received the "Best Energy Engineering" award from the AEE Spain Chapter, in recognition of excellence in energy matters.
The awards granted by the Association of Energy Engineers are intended to recognize the excellence of the work of professionals, organizations, and companies by colleagues and other professionals in the energy industry.
The categories of the Awards are: Corporate award for the best company; prize for the best energy project; award to the best public institution; award to the best Association; award to the best Energy Engineer; prize for the best Savings Measurement and Verification Plan.
The entities, professionals and award-winning companies have been:
Corporate Award for the best company: FULTON Group.
Award to the Best Public Institution awarded to Llíria City Council.
Award to the Best Association granted to the Illustrious Official Association of Industrial Engineers of Galicia.
Award to the Best Energy Project awarded to EspaiZero (Wattia Innova).
Prize for the Measurement and Verification of Savings Plan granted to Nacho Baixauli (Eliwell Iberica).
Special mention requires the award given to Nuria Gallego, technical director of FCC Industrial, awarded for the achievements in the development and promotion of sustainable energy and energy efficiency, as a professional in the energy sector.