09/12/2010
AMPLIO Project
Construction of Photovoltaic Parks over Greenhouse Covers in Italy
Invernadero en Italia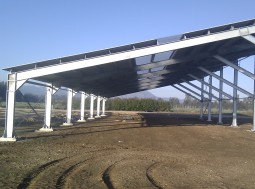 Both photovoltaic plants produce together a peak power of 4.3 MWp (megawatt peak) and enable eco-efficient supply of circa 3.000 households a year from December 2010. FCC Industrial specializes in comprehensive management of EPC projects (Engineering, Procurement, Construction), managing the project from its initial phase to launch time within closed price.
AMPLIO Project is located in the Sardinian region of Middle Campidano, south of the island. This region is characterized by its amplitude in agricultural lands, some of these lots have been sold for the installation of photovoltaic modules built on greenhouses, as is the case of the concerning photovoltaic power plants: Pinna Giuseppinno, located southwest of the town of Samassi and Medda Giuseppe, located west of the town, both plants have a peak power of 0.69 and 3.6 MWp respectively MWp and are built on greenhouses rooftops to allow further farming of these lands and to provide eco-efficient household supply thanks to the impact of photons from the sun on the solar panels impregnated with semiconductor material and its conversion into electricity.
The project was awarded in August 2010, has a budget of 15 million Euros and is in an intermediate step, so that it will meet the scheduled deadline for launch later this year. AMPLIO Project represents the first milestone in the internationalization strategy of the company. This integration process has been materialized thanks to the opening of a new office in Italy.
Clean Energy
These photovoltaic plants make real the commitment of the Group FCC and, particularly, FCC Industrial with clean energy. FCC Industrial undertakes the heritage of the integrated companies, and becomes worthy of excellence and technological innovation to ensure a long way to cover in the dynamic renewable energy sector.